Limhin (S. Clear Eye)
---
Limhin (S. clear eye), an elf-maiden scholar who is wild at heart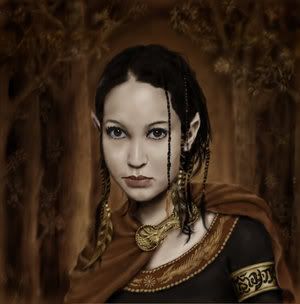 Definition by the rules: "The beauty of Greenwood the Great seems lost forever in the shadows of Mirkwood, but you still find solace running alongside its wild beasts, as your kinsmen did for centuries. The wood sings to you as tree branches sway and leaves rustle; enchanting music you strive to decipher. Some find your ways to be simple and rustic, but they fail to see the wisdom of choosing to live your life fully in these waning years. "
Limhine was sitting in a secluded glade, her bare feet dangling in the clear fresh water of a singing brook.
She was dreamily listening to the trees, to the rustling of their leaves, and to the murmuring of the water. There had been a change, a new note in their eternal songs. Had it started when those dwarves with their irksome hobbit had blundered through Mirkwood? Or had it commenced when Smaug, the horrible worm, had been shot? Was it started by the victory in the Battle of the Five Armies?
She didn't know. But she knew that the water and the leaves and the trees were whispering of a new spring, a time of hope.
Their sounds, the unspoken promises, quickened her heartbeat. When she opened her eyes again, she knew that the time to follow their call had come.
comment:
Limhin is a Speaker, a scholar more than a warrior. She is closely connected to the nature surrounding her. A good listener, she is less arrogant than most other elves and has learned to be courteous around other people. She carries a spear, and relies on her Wits to defend herself. I didn't make her a bowwoman because two other players already have missile users and only 2 in 6 can fight in a rearward stance.
Culture:
Elf of Mirkwood
Standard of Living:
Martial
Cultural blessing:
Folk of the Dusk
Calling:
Scholar
Shadow weakness:
Lure of Secrets
Specialties:
Elven-lore, Mirkwood-lore, Rhymes of Lore
Distinctive features:
Clever, Quick of hearing
Body
: 4
Heart
: 3
Wits
: 7
Body (favoured)
: 6
Heart (favoured)
: 6
Wits (favoured)
: 8
-Common Skills-
Awe: 2 Inspire: 0 Persuade: 0
Athletics: 3 Travel: 2 Stealth: 2
Awareness: 2 Insight: 2 Search: 0
Explore: 0 Healing: 1 Hunting: 1
Song: 2 Courtesy: 2 Riddle: 1
Craft: 0 Battle: 2 Lore: 3
-Weapon Skills-
(Spears): 2
Dagger: 1
Sword: 1
-Rewards-
:
-Virtues-
: The Speakers
-Gear-
Spear damage: 5 edge: 9 injury: 14 enc: 2
Dagger damage: 3 edge: G injury: 12 enc: 0
Mail shirt enc: 12
Shield enc: 3
Endurance
: 25
Starting Endurance
: 25
Fatigue from Encumbrance
: 17
Fatigue from Travel
: 0
Total Fatigue
: 17
Hope
: 11
Starting Hope
: 11
Temporary Shadow
: 0
Permanent Shadow
: 0
Total Shadow
: 0
Armour
: 3
Headgear
: 0
Parry
: 7
Shield
: 2
Damage
: 0
Ranged
: 0
Wisdom
: 2
Valour
: 1
Experience
: 0
Total Experience
: 0
Fellowship
: 0
Advancement
: 0
Treasure
: 0
Standing
: 0