Part I: Insertion
---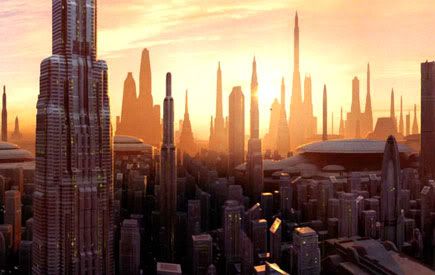 Coruscant
The Grand Army Of The Republic Staging Area
0400 Hours
Despite the early hour the skies are filled with both military and civilian traffic alike. The skies are never empty on the planet that never sleeps. A group of five of the most unlikely bunch are awaiting a shuttle. They have been brought here from all across the galaxy. Each of the five is as different in their past as in the appearance. But, their goal is the same. To fight and defend The Republic from the Separatist threat. They have been told nothing of their mission except that secrecy is of the utmost importance and that they will be going behind Separatist lines.
They are now on their last leg of their long journey. They are alone on the shuttle pad save their four clone trooper escorts. Three of the clone troopers patrol the outer edge of the landing pad. Their weapons held ready and their bodies display disciplined readiness. The fourth trooper stands in front of the group giving last minute instructions before their shuttle arrives.
The trooper holds up a data pad. On it has the image of a
Twi'lek.
It is clear that it would indeed be difficult to miss such a large Twi'lek.