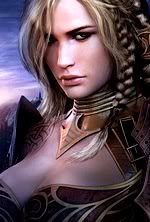 Not being a 'landlubber' much anymore, Anna was about to say something flippant about running into the jungle alone but decided to skip it for reasons of sanity. Just be careful, Sarah. We don't know what's out there.
She then opens up her bag and pulls out her armor and shield and sets about to get them on.
Anna jumps visibly from Flick's outburst and starts coughing as the smoke from the fire goes directly past her.
What is it with that boy?
And once she gets her breathing back, Need help with that, Flick? I don't know a lick about it, but I'm willing to help out with whatever.