Angela Citysmith
Angela Anderson, née Lang
Type:
Werewolf
Pack
: The Architects of Steel
Tribe:
Iron Masters
Lodge:
Gain access to the Eclipse (Wisdom), Tainted Moon (Cunning), and Wound (Honor) gifts as affinity gifts
The Bale Hounds
Auspice:
Ithaeur
Born:
1973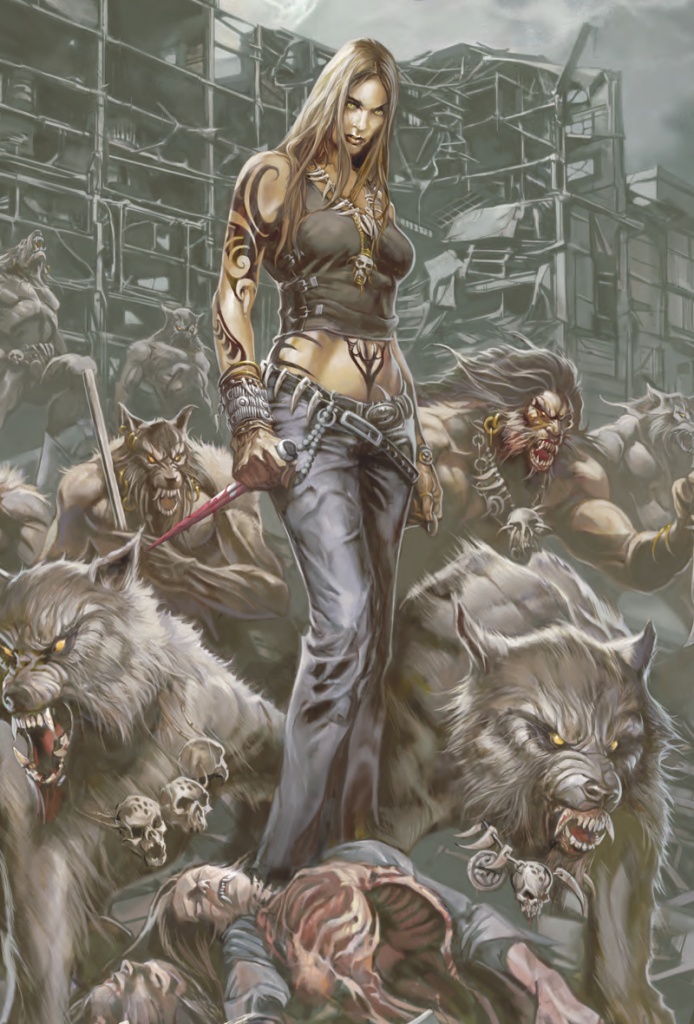 Virtue:
Determined
Vice:
Arrogant
Long-Term Aspiration
: To remake London
Background:
Angela is a woman consumed by pride and ambition. Her goals are lofty, huge, all-encompassing. To most people they would seem too high to reach, like trying to catch stars. But Angela believes them possible – nothing is beyond her grasp. With the proper efforts, one can build cities.
It is Angela's aim to reshape the spiritual landscape of London. Her research and experimentation has led to the discovery that it is possible to channel Essence flow with careful planning – by directing sunlight in the appropriate places at certain times, by absorbing lightning strikes during storms, by using the right materials. Angela has managed to affect the spiritual world in small ways with her tests and experiments. But her dreams are bigger than that – by far. Logically, if one can affect a single room with the right planning, then an entire city could affected with enough forethought, resources and willpower. The implications of this are beyond belief. One can create ley lines and loci, nodes and power-centers. More than that, one can shape a city's resonance in such a way as to influence the mortal herd, instill emotions and habits of thought. With the right architecture and urban planning, Angela believes it possible to create a Garden of Eden... or a darkly Panoptic dystopia.
Most werewolves and spirit dwellers that know of her goals think that Angela is naive at best, deranged at worst. Spiritual engineering on this sort of scale has occasionally been attempted -- in Amarna and Heian-kyō most famously. But not for centuries. Not in a modern city of fourteen million souls. There are previous few outside her pack who believe it is remotely possible – and even within the pack there are doubts. Rather than be deterred by the logistical problems involved, Angela felt spurred on. The chance to prove her control and her mastery was... intoxicating. She made London her target because as the largest and most populous city in the United Kingdom, if it worked here, it would work anywhere.
To reach her ambition will require substantial skill, connections, resources, money and knowledge. An architecture student before her First Change, Angela began by setting up a property development company, using seed money from her wealthy parents. She started small – local work, setting a standard and making a name for herself, networking with others in the property business. She quickly expanded her operations – both the scope of the work she took on and the area she covered. She secured valuable commissions, won awards for her work, and in 1995 married Theodore Anderson, the heir of the Anderson & Smithfield construction fortune. By the age of thirty Angela was one of the big names on the UK construction scene, a seemingly unstoppable property juggernaut with stock in several construction and architecture firms.
But even with all she'd done, it wasn't enough. Reshaping the spiritual side of the city takes a lot of effort and dedication. In London she has been laying down the roots for fifteen years, in other cities across the UK for less. But this kind of engineering takes time, and the balance is delicate. Slowly but certainly, it became that her goals were too large for even a werewolf to accomplish in a mortal lifetime. This was unacceptable. Angela has poured most of her life into this endeavour. Nothing would stop her from seeing it through – not even death, it seems.
And so Angela hedged her bets in a way that even her packmates don't suspect. Her pride has driven her to a fall -- into the embrace of the Bale Hounds. Though even her packmates don't know it, Angela has sworn a dark pledge to Lamashtu, the twisted Incarna of Pride. She does not lead or participate in an active cult, and keeps only loose connections to other followers of her patron, though she can call on friends in low places if need be. She considers herself not a worshipper, but a client; Lamashtu offered her a blessing of unending youth and vigor in exchange for certain — services, a bargain that Angela initiated herself. The thought of dying before she could complete her ambition was utterly anathema, and she feels that she's gotten the better end of the deal.
Naturally, Angela hides her true affiliation quite well. She comes across as cold and professional to other Uratha, somewhat condescending but otherwise reliable and powerful. She has a crushing disdain for weakness that makes some wonder if she wouldn't be happier in the Storm Lords; she does not let slip that she has come to see the Forsaken tribes' dysfunctional relationship with Luna as one of the most contemptible weaknesses of all. She isn't above acting as an "ally" to another pack if it suits her own purposes, though she has difficulty treating other werewolves as peers. She is not above making deals or exchanging knowledge if it is of benefit to her. Years in the property business has taught her that profit is always the bottom line – what will she get out of a deal?
Angela carries herself with a cold, regal grace that is in every way predatory. She has managed to function among human society for years since her Change, and has become so skilled at repressing her casual passions that she at first seems to be almost emotionless. When her bestial heart does get the better of her, though, she becomes almost rabid with anger. Angela is above all others, werewolves and morals alike. They are clever, she is genius. They are strong, she is powerful. They will die, and she will live forever. They build homes and territories... and she builds cities. And the London she creates will bear precious little resemblance to a Garden of Eden. Unless, perhaps, one is a Bale Hound.
Angela lives with her family in a large, Neo-Victorian house in Bloomsbury, which she herself designed. Her husband, Theodore Anderson, stays there as little as he can, avoiding a wife who increasingly frightens him in favor of alcoholism and a succession of mistresses. Angela also has a son, twelve-year-old Leon, a quiet, socially-remote boy who has seen some terrifying things. He spends most of the year at the Hawksworth Preparatory Academy, and so Angela usually has her lair to herself.
Tribe: Iron Masters
Lodge: The Bale Hounds
Auspice: Ithaeur

Mental Attributes: Intelligence 5, Wits 5, Resolve 4
Physical Attributes: Strength 3 (4/7/5/3), Dexterity 4 (4/6/6/6), Stamina 4 (5/7/6/5)
Social Attributes: Presence 4, Manipulation 6, Composure 6

Mental Skills:Academics 3, Crafts 2, Computer 1, Investigation 3, Occult (Demonology, Geomancy) 5, Politics 4, Science (Architecture) 3
Physical Skills: Athletics 2, Brawl 2, Stealth 2, Survival (Command Fire x2) 4
Social Skills: Empathy 1, Expression 3, Intimidation (Veiled Threats) 4, Persuasion (Cutting Deals) 5, Streetwise 1, Subterfuge (Misdirection) 6

Merits: Allies (Architecture & Construction) 5, Fast Reflexes 3, Indomitable 2, Resources 5, Status (Architects of Steel) 5, Striking Looks (Amazon) 1, Unshakable 4,
Lair: The Anderson Building, Isle of Dogs; Security 4, Warding 5, Ritual Area (Summoning) 3

Willpower: 10
Harmony: 2; (4 w/ Rite of the Sin-Eater)
Universal Banes: Aura of Menace, Death Rage, Nimbus (Twisting black serpents over her skin)
Personal Banes: Holy Ground, Chronological Trigger – Rage (Full Moon)

Initiative: 13 (13/15/15/15)
Defense: 4 (4/7/7/7)
Mental Shield: 2 (Indomitable)
Health: 9 (11/14/12/9)
Size: 5 (6/7/6/4)
Speed: 13 (15/20/21/19)

Primal Urge: 6
Renown: Cunning ●●●●●, Glory ●, Honor ●●, Purity ●●●●, Wisdom ●●●●●
Gifts:
1st: Bloody Moon (Tainted Moon), Wound-Born (Wound), The Heart of Things (Wisdom) Two World Eyes (Crescent Moon), Partial Change (Mother Luna)
2nd: Gravid Moon (Tainted Moon), Lord of the Wounds (Wound), Befuddle (Wisdom), Read Spirit (Crescent Moon), Luna's Dictum (Dominance), Scent of Taint (Insight)
3rd: Broken Moon (Tainted Moon), Voice of Command (Dominance), Iron Treachery (Technology), Command Fire (Elemental)
4th: Sickle Moon (Tainted Moon),

Also adds (Manipulation) to Starting Essence

Siphon Suffering (Wound), Vanish (Stealth), Skin-Stealing (Mother Luna)
5th: Dark Moon (Tainted Moon), Mask of the Divine (Blending), Poison Essence (Witch's Moon)
Rituals: ●●●
1st: Ritual Mind, Rite of Dedication, Chiminage Rite, Rite of Hallowed Ground
2nd:

For all intents and purposes (including Banes, Breaking Points, Fetishes, and Rituals), the Bale Hound is treated as having a Harmony score 2 higher

Rite of the Sin-Eater, Rite of the Shroud, Banish Spirit, Blessing of the Spirit Hunt, Call Gaffling, Call Human, Cleansed Blood, Scarlet Messenger
3rd: Shrieking Glyphs, Bind Human, Bind Spirit, Call Jaggling, Rite of Healing, Wake the Spirit
Essence: 15/6; (Siphon Suffering)
Totem Boons: Strength +1, Resolve +1, 1 WP
Silver Heart: Angela Citysmith's heart has been replaced with a beating chunk of silver. Angela does not age, does not suffer wound-penalties, and does not need to fall unconscious upon having her last health box filled with either Bashing or Lethal. If all of her health boxes fill with aggravated damage, she falls down, seemingly dead, but unless the silver heart is removed from her chest and destroyed, she resurrects at the end of the scene.

Attacks...........................Damage.....Dice Pool.....Special
Claw (Gauru)........................ 1(L)............ 10………..9-Again

Curses................Cost...............Dice Pool...........Resisted/Opposed..............Effect
Befuddle..................1E.................13................... vs. Comp+PU.....................Target takes -5 to Mental Rolls for the Scene
Iron Treachery.........1E..................12...................-Resolve............................Mechanical object becomes uncontrollable for (Successes) Turns
Broken Moon............1E..................

Presence+Expression+Cunning

12.................. vs. Resolve+PU..................Target Werewolf enters Death Rage
Dark Moon……………..1E&1WP…..... 16.................. vs. Comp+PU……...............Sensory Deprivation
Poison Essence.........1E..................15.................. vs. Resolve+PU.................Target takes 1B damage per E spent (1L on ES)
Command Fire.........1E..................13...................-Defense............................Target takes (Successes) Fire damage; Gauru (+4, 9-Again)
Luna's Dictum..........1E..................

Presence+Intimidation+Purity

12...................vs. Comp+PU……...............Mind Control
Voice of Command...1E..................

Manipulation+Intimidation+Purity

14.................. vs. Resolve+PU.................Mantle of Authority