Angela Citysmith
Angela Anderson, née Lang
Type:
Werewolf
Pack
: The Architects of Steel
Tribe:
Blood Talon
Auspice:
Ithaeur
Born:
1969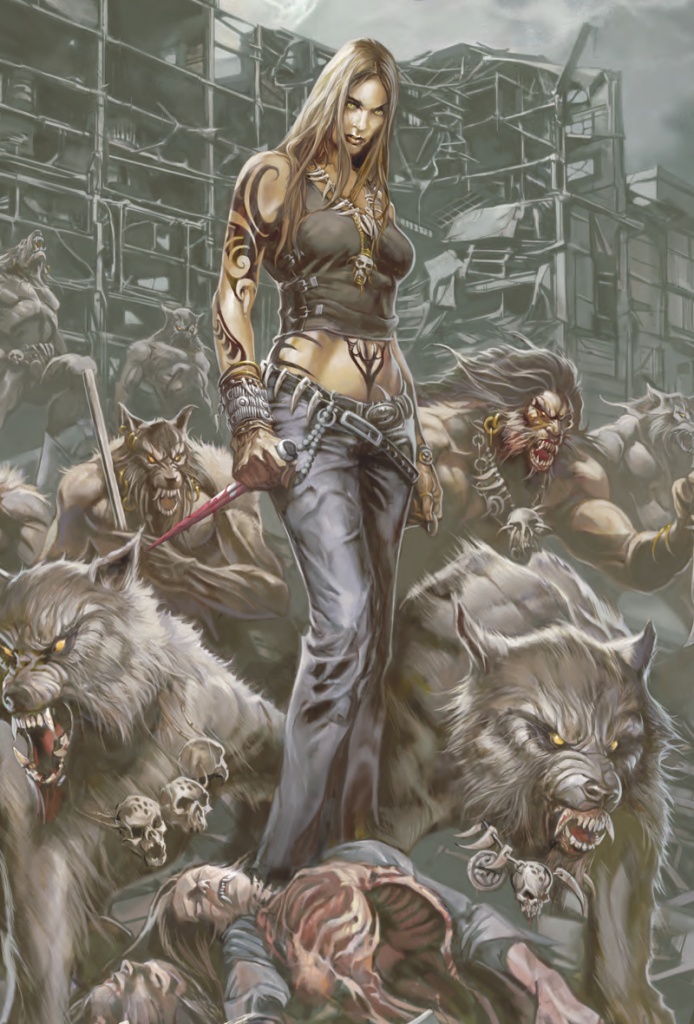 Virtue:
Determined
Vice:
Arrogant
Long-Term Aspiration
: To remake London
Background:
Angela is a woman consumed by pride and ambition. Her goals are lofty, huge, all-encompassing. To most people they would seem too high to reach, like trying to catch stars. But Angela believes them possible – nothing is beyond her grasp. With the proper efforts, one can build cities.
It is Angela's aim to reshape the spiritual landscape of London. It has long been known that it is possible to alter the spiritual character of a city with careful planning – by directing sunlight in the appropriate places at certain times, by absorbing lightning strikes during storms, by using the right materials. So it was done in Amarna and Heian-kyō, and it was along these lines that Sir Christopher Wren rebuilt London after the Great Fire. Werewolf ritualists routinely alter the resonance of city blocks or isolated woods.
But Angela's dreams are bigger than that – by far. By wedding modern design and ancient ritual, Angela believes it is possible to rework the very structure of the modern city. One can create ley lines and loci, nodes and power-centers. More than that, one can shape a city's resonance in such a way as to influence the mortal herd, instill emotions and habits of thought. With the right architecture and urban planning, Angela believes it possible to create a modern Garden of Eden.
Most werewolves and spirit dwellers that know of her goals think that Angela is naive at best, deranged at worst. Spiritual engineering on this sort of scale is theoretically possible -- Amarna and Heian-kyō proved it. But not for centuries. Not in a modern city of fourteen million souls. There are previous few outside her pack who believe it is remotely possible – and even within the pack there are doubts. Rather than be deterred by the logistical problems involved, Angela felt spurred on. The chance to prove her control and her mastery was... intoxicating. She made London her target because as the largest and most populous city in the United Kingdom, if it worked here, it would work anywhere.
To reach her ambition will require substantial skill, connections, resources, money and knowledge. An architecture student before she found an old alchemical text with a werewolf potion in a chest during an estate sale, Angela began by setting up a property development company, using seed money from her wealthy parents. She started small – local work, setting a standard and making a name for herself, networking with others in the property business. She quickly expanded her operations – both the scope of the work she took on and the area she covered. She secured valuable commissions, won awards for her work, and in 1995 married Theodore Anderson, the heir of the Anderson & Smithfield construction fortune. By the age of thirty-five Angela was one of the big names on the UK construction scene, a seemingly unstoppable property juggernaut with stock in several construction and architecture firms.
Simultaneously, Angela worked on raising her profile in the supernatural world as well. She ran with several packs briefly, charming them, learning all she could, and then moving on. By the late 1990s, she had the connections and resources to set up her own pack, the Architects of Steel. She bound a totem, the war-and-construction spirit Warbuilder, she headhunted quality Forsaken from other packs like Thomas Cushner, and she took her territory in the Isle of Dogs, not far from the headquarters of Anderson & Smithfield, in the Anderson Building she herself designed.
At the moment, Angela has a fair claim to being the most powerful werewolf in London. She's a workaholic, driven and incredibly ambitious. Angela's greatest weakness in her plans is that she isn't really a people person. Angela is a powerful, ambitious, intelligent, ruthless... and not very good at
hiding
these facts. She sees people as tools to accomplish her larger goals, and though she can maintain a veneer of predatory charm, no one who deals with her is under any delusion that she would shred them to pieces if it served her interests.
And make no mistake, she is ruthless. Citysmith may be best considered a cold, rational, self-interested fanatic. She is driven by a vision of a rebuilt London, a city of gleaming spires and silver factories, of crowds moving in perfect alignment and society proceeding like clockwork, a vision of a clean, precise, elegant city, sterile and beautiful. It is this vision that keeps Angela active, that pushes her forward into greatness and keeps her from resting on her laurels.
Angela lives with her family in a large, Neo-Victorian house in Highgate, which she herself designed. Her husband, Theodore Anderson, stays there as little as he can, avoiding a wife who increasingly frightens him in favor of alcoholism and a succession of mistresses. Angela also has a son, twelve-year-old Leon, a quiet, polite boy who has seen some terrifying things. He spends most of the year at one boarding school or another, and so Angela usually has her lair to herself.
Angela Citysmith is a tall woman of about 5'10'', muscular and physically powerful, with dark blonde hair worn long and amber eyes. In the boardroom, she is usually found wearing business suits tailored at Savile Row and holding snakeskin attache cases, on the streets she dons jeans and tanktops, but in all cases she moves as if her clothing was a second skin. She radiates confidence with every gesture, as if the very idea that Angela could be
wrong
never entered her mind. Her body is covered with sharp, blade-like tattoos, all spines and serrated wings. Her wolf form is a large, pale-furred beast, powerful and imposing.
Tribe: Blood Talon
Auspice: Ithaeur

Mental Attributes: Intelligence 6, Wits 5, Resolve 6
Physical Attributes: Strength 4 (4), Dexterity 4 (4), Stamina 4 (4)
Social Attributes: Presence 8, Manipulation 5, Composure 4

Mental Skills:Academics 4, Crafts 2, Computer 1, Investigation 3, Occult (Megapolismancy) 5, Politics 4, Science (Architecture) 4
Physical Skills: Athletics 2 (+2 to Jumping), Brawl (Bite) 3
Social Skills: Empathy 2, Expression 2, Intimidation (Ritual Sorcery x2) 7 (+4), Persuasion (Making a Deal) 3, Streetwise (Exit Strategy) 3, Subterfuge (Deception) 6

Merits: Allies (Architecture & Construction) 5, Hunting Ground 5, Fast Reflexes 3, Indomitable 2, Resources 5, Status (Architects of Steel) 3, Striking Looks (Amazon) 1, Unshakable 4
Lair: The House on the Hill;

Security 3, Secrecy 3, Warding 3, enhanced by Megapolismancy

Security 5, Secrecy 5, Warding 5, Ritual Area (Ritual Sorcery) 3

Willpower: 10
Harmony: 2 (+2 Unshakable)
Universal Banes: Aura of Menace, Death Rage, Nimbus (Twisting black serpents over her skin)
Personal Banes: Tell (Amazon with Amber Eyes); Disruption (Wolfsbane)

Initiative: 11
Defense: 4
Armor: (1/0)
Mental Shield: 6 (Indomitable+Forest Queen)
Health: 9
Size: 5
Speed: 13 (x2 on all fours)

Primal Urge: 7
Auspice Boon: Ritemaster
Aspects: Red in Tooth and Claw ●, The Beast in the Woods ●, Unstoppable Brute ●, Forest Queen ●●●●
Renown: Glory, Wisdom
Gifts:
Trickster's Cunning: Deny Everything (Cunning), Exit Strategy (Cunning)
Glorious Epic: Voice of Glory (Glory)
Shadow's Wisdom: Shadow Gaze (Wisdom), Spirit Read (Wisdom), Mask of the Divine (Wisdom)
Elements: Heart of Water (Wisdom)
Insight: Prey on Weakness (Cunning), Read the World's Loom (Glory), One Step Ahead (Wisdom)
Pack: Pack Awareness (Purity)
Shaping: Shutdown (Cunning), Blessed Tool (Purity)
Rituals: ●●●●●
1st: Call Spirit, Twilight Eyes, Territory Marker, Master Key (M), Erecting the Cyclopean Walls (M), Tremors of the Crystal Web (M)
2nd: Control Spirit, Boundary Ward, Aura of the Monolith (M), Excise from the Numinous Lattice (M), Summons to Speak (M)
3rd: Bind Spirit, Jinx, Beneath the Eye of Fenris, Resonance, Eye of the Pyramid (M)
4th: Spiritual Glory, Construct Verge, Lock the Gilded Cage (M), Patient Sting of Diaphanous Steel (M), Eternal Sentinels of Stone (M)
5th: Veil, Metropolis of the Unified Diagram (M)

Essence: 25/7; +2 Starting (Hunting Ground 5; Tithe -3)
Totem Boons: Megapolimantic Restructuring

Attacks................................Damage.....Dice Pool.....Special
Claw (Wolf)..................................0L............7..............
Bite (Wolf)...................................2L............10..............
Heart of Water (Water)............... 2B............ 20……….....Minus Defense
Heart of Water (Ice).....................4L..............22.............Minus Defense