Erin Lamothe
---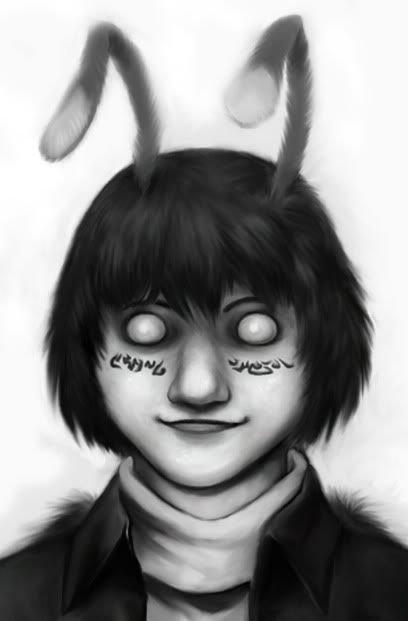 Name
: Erin Lamothe

Concept
: Fey Toymaker
Species
: Changeling
Seeming
: Wizened
Kith
: Artisan/Antiquarian
Virtue
: Charity. Erin was raised as a servant, and her joy still comes from helping others. There is nothing that makes her happier than providing what someone wants - giving the help someone needs.
Vice
: Greed. For fifteen years she had nothing, and only desire snapped her out of mental servitude. Erin keeps that simple, childish greed, and once she's decided something is
hers
, she can't let it go.
Age
: Appears in her early-twenties, actual age forgotten.
Eye Color
: Plain Brown/Solid White
Hair Color
: Very Dark Brown
Skin Tone/Complexion
: Fair/Yellow
Hair Style
: Cut short and messy, similar to a pixie-cut
Figure Notes
: Erin Lamothe is a tiny woman. She is just a little over 4'10", with a petite frame and a slim, boyish figure. She has an air of childish cuteness about her, with large eyes and slightly chubby cheeks, but beyond that is mostly drab and unprepossessing. Her fingers are rather long and slender, like a pianists, and remarkably free of callouses. Her hair is a dull brown, so dark it's nearly black, and her eyes are brown and unmentionable.
In her true Seeming she has dark yellow skin, with just a slightly fuzzy look to it. Her eyes are more spherical and solid white, like marble. Two feathery feelers protrude through her hair like moth antenna. Her fingers are longer than normal, soft and flexible - almost vinelike in their nature, bending backwards as easily as forwards. Words are written across her cheeks, underneath her eyes, in a script that looks like Sanskrit but isn't. On her back are a pair of fluffy moth wings, the backs covered in patterned brown fuzz that almost resembles feathers, the undersides yellow with brown markings. Her back itself is mottled with brown, with a splotchy yellow mark between her shoulders that resembles a skull.
Clothing Notes
: Erin tends to dress in a manner to cover her skin. Turtlenecks, long trousers, jackets and winter coats with long sleeves are all staples of her wardrobe. Pockets are a must for everyday wear, hence her preference for slacks. She also has a strong fondness for suede and microsuede. Almost all of her clothes are in neutral browns and whites, though she will sometimes venture into blues, greens, and rarely, reds. For formal occasions, she tends to wear long coats that make her look like she's in uniform. She rarely wears dresses, but does own a sun dress or two. For shoes, she prefers women's penny loafers.
Due to the wings, Erin is forced to personally tailor or alter all of her clothing with slits and clasps in the back.
Accessories
: Erin carried a Swiss Army knife on her at all times it is allowable. Other typical accouterments include four iron nails, a book of matches, a lump of lead wrapped in a handkerchief, and a pocket bible. A gold colored St. Olga cross is worn around her neck, hidden under her clothing. When working, she is often ornamented with a loupe for examining small details.
Other
: Erin prefers to stand rather than sit, due to her wings often getting in the way.
Background
I remembered the toy, still, all while I was there - the toy and the train. A green, stuffed glowworm, the crude, colorful mall train that rode in circles. I remembered them because they were the last things I saw. Mom's face is gone, walking off into the toy shop, dad's face is gone too, sitting at the table nearby, drinking coffee. Only looking away for a second, and that's all it took. The train flew away through the mall, and through the doors, and out across the parking lot, and into the bushes that surrounded it - but it never left the bushes, and they were suddenly full of thorns, and I wasn't laughing anymore.
There were others, I think. The mistress told us we would work for our food. We scraped and polished, cleaned and scrubbed, climbed and dusted. The mistress liked the dark, and so it was hard to see if we'd done well. When we made excuses, she changed us so we could do better, taking our fingers and giving us new ones, taking our eyes and giving us new ones. We soon made no excuses. The mistress wanted the most beautiful and well tended castle in all of Arcadia, and we gave it to her.
We traversed into her grand libraries, seeking out tales of things the world had long forgotten. The rooms and shelves could take days to traverse, and sometimes things waited for us in the darkness. We carried out tomes of ancient wonders, some of them bigger than we were, and took them to our workshops. Pounding, crafting, etching day and night, we remade those lost artifacts, as good as the original, or even better. The mistress wanted the most marvelous and rarest of creations to grace her castle, and we gave them to her.
We took the others to our workshops too, the new ones, the ones who made excuses. We etched words upon their flesh, we changed the color of their eyes. When the mistress was not pleased with them, when she grew bored of them, we made them better. The mistress wanted the perfect servants to tend to her, and we gave them to her.
In time, some began to feel something was wrong. We carried on the work of the mistress, but we did not see her. She appeared neither to praise or censure us. We were not sent to seek anything, our creations sat unused and unnoticed. We kept to our duties, for fear the mistress would return and punish us for our idleness. But she did not.
Most stayed within the castle, too afraid to abandon their posts. I left, following the twilight; the mistress always wanted to be told when the great hourglass in the hall was empty, and the mistress always cloaked herself in twilight. The trees grew thicker as I followed the path, thorns ripping and tearing through clothing. I kept walking forward. There was nothing else to do. The mistress wanted to be told.
When I reached the other side I was... confused. It had been so long since I had seen cars and pavement. Everything had changed, shops changed, people dressed differently. I remember finding my house, but the people within were different. I had no names to ask for, they were long gone, along with Mom and Dad's faces. I left then. I had to find the mistress. The mistress wanted to be told.
I remember finding the toy again, the green, stuffed glowworm, still wearing it's silken nightcap. It was sitting in a hobby shop instead of a bright box at a toy store, locked away behind glass along with other things that belonged only to the past. I remember pressing my fingers, twisted and vine-like, against the case. Remembering how badly I'd begged mom for it. Remembering how much
*I*
wanted...