Lesteroux Özséb Szelepcsényi ("Lester"): Forest Gnome Rogue
---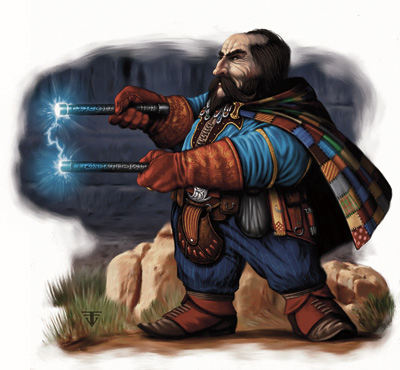 Name:
Lesteroux Özséb Szelepcsényi ("Lester")
Race:
Gnome (Forest)
Class:
Rogue (intended Arcane Trickster)
Alignment:
Chaotic Neutral
Background:
Charlatan
Gender:
Male
Age:
46 years
Appearance:
Lester is about average height, for a Gnome, standing 3' 6" tall but rather stout, weighing in at 54 pounds. He has dark hair worn rather long, to make up for what he's losing on top. He also has a long, luxuriant mustache and a short beard under a rather prominent nose and full lips. His bright green eyes dance with mischief and joie de vivre. He favors dark clothing and generally has a rather lumpy appearance due to various tools (as well as candies, sweetmeats and other snacks -- he has quite the sweet tooth....) secreted about his person.
Personality:
Lester is a merry, mischievous sort. While not incapable of roughing it he definitely loves his creature comforts and generally seeks to maximize his enjoyment of them to the extent that he'll take a bit of extra risk, or expend a bit of extra effort (usually resorting to a bit of exceptional trickery) to secure himself a comfy bed or a good meal. He prefers to use his wits and cunning over direct violence; when he uses a blade he definitely prefers it be from a position of advantage. While not entirely incapable of risking himself for a friend or working with a group (especially when there is something he wants, including his survival, at stake), one shouldn't really expect too much in the way of heroics or self-sacrifice from Lester or be surprised when he begins looking for an 'exit strategy' when the chips are down (in order to "live to fight another day" or "stage a rescue later", naturally). He is a thief and a cheat but, deep down, he does have a good heart. Unless circumstances are dire (in which case he'll do his best to make things up to his victim) Lester won't take more from a relative innocent than they can afford to lose, though if they've offended somehow or need to be taught a lesson, all bets are off.
Background: