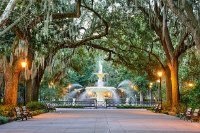 Characters
Character Creation: 
Create a thread in this tab for your character creation process.  
4th edition (V20) Vampire the Masquerade
Create a standard starting Kindred with an embrace that occured in the 1990's.  You were embraced and you spent your unlife to date in some other city. 
Then apply 50 experience points.  You have been active fledgelings and neonates, relatively speaking.
Pick 2 factions (clan, tribe, secret society, etc.) that you have 'upset' during this time as well that haven't considered the matter closed.  Either it's an open issue that will cause complications when dealing with that group, or a debt owed because the matter was 'settled' and that marker is yet to come due.  
Restrictions:
No 5th dot in a discipline.  If you were that talented in a particular way, you're not going to be volunteered/voluntold for something like this. You'd be too valuable.
No True Faith
The following backgrounds are limited to at most 1 dot to represent value inside Savannah and surrounds, and represent newly placed people or holdings: Allies, Contacts, Domain, Fame, Herd, Influence, Status
Mentors and Sires are not local, so those backgrounds and merits will have less effective value, but can still be taken. 
---